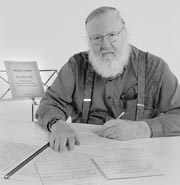 Alfred Loeffler Composer, Conductor, Educator, Violist, Workshop Director
The Al Loeffler Chamber Music Library includes well over 2000 volumes acquired through the generosity of workshop participants over the past 40 plus years.
You may view files of the library sorted by composer and by instrumentation (code) below. The "CMW Ensembles Legend" at the bottom provides translation of the item codes into instrumentations.